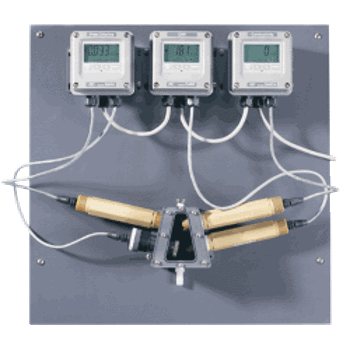 ATI's Model Q45WQ Water Quality Panel is a flexible system designed for continuous, on-line monitoring of multiple parameters in municipal water distribution systems and potable water treatment facilities. The instrumentation contained in each Water Quality Panel is selected by the end user and customized to meet your individual monitoring requirements.
Water Quality Panels are used to establish baseline conditions of the final water and monitor to ensure each parameter is within acceptable limits.  The panel can be used to continuously monitor residual disinfectant for compliance with the Surface Water Treatment Rule, and help identify possible contaminant to the water supply.
The Water Quality Monitors that are used on the panel were designed to provide long service life with minimal maintenance. The panel is easy to start up, as all components have no moving parts to break down, nor do they consume costly reagents.  Many of the parameters can be configured as either loop-powered transmitters or line-powered analyzers.
The Q45WQ Water Quality Panel includes a 3/8″ thick PVC mounting plate cut to the customers specified dimensions, integral stainless steel mounting inserts for all analyzers, flowcells, inlet pressure regulator and strainer. All sample delivery hardware is preplumbed and a 48 hour factory "wet test" of the complete system is preformed prior to delivery.
Parameters available for use on the Water Quality Panel include:  Free Residual Chlorine Combined Residual Chlorine, pH, ORP, Conductivity, Temperature, Turbidity, Dissolved Oxygen, Particle Counter, Fluoride, Inlet Pressure, and Sample Flowrate.